The Tooth Studio - Dental Clinic
The Tooth Studio - Dental Clinic
102, Accron, Next to Rameshwar Mahadev Temple, Agriculture University road, Jogger's Track towards citylight, Murlidhar Road, Panaas, Surat, Gujarat 395007
Welcome to THE TOOTH STUDIO

The clinic was inaugurated on the 13th of November 2016 with the aim to extend the range of Dental Care under one roof at an affordable cost. We believe our patients deserve the best services thus we are equipped with the latest technologies and instruments and from general dentistry to super-specialization we provide them high-quality dental treatments.

We give time to understand the needs of our patients, make a thorough assessment of their dental health to determine the best-preferred treatment. So if you are looking for a competent dentist to look after your teeth and keep your mouth in great shape, or perhaps you are interested in more specialized treatments such as teeth straightening, dental implants, etc then you can trust us to be the best possible resource for you.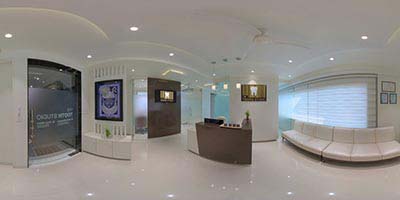 Open Virtual Tour